Professional Certifications
Blessed Advocacy is pleased to announce that Tammy Krack, is now a Board Certified Patient Advocate (BCPA).
What does It mean to be Board Certified?
The Board Certified Patient Advocate (BCPA) is the only certification for professional health and patient advocates and it's awarded to designated qualified individuals.
Earning the BCPA certification requires individuals to pass a rigorous exam and to uphold the highest ethical standards for the benefit and protection of clients they serve.
Board Certified Patient Advocates are multidisciplinary and have demonstrated advanced skill and knowledge in navigating the complex health care system.

---
Blessed Advocacy is a Contact Tracing for COVID-19 certified business. Contact tracing is the key to prevent the spread of the virus to keep you, your family, and your community safe.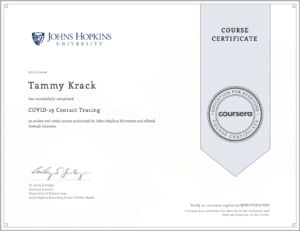 Professional Affiliations
Blessed Advocacy is associated in a professional manner with the following organizations and entities.